No Price Tag On My Conscience
A downloadable cloudbound body
Bury adobe. Inhale. Enjoy the fire.

Created using print to file, draw on your screen & pdfunite.

All text, images, layout, and resources developed, written, maintained, formatted, and the like by volunteers. Join the community.

Uhh, No Price Tag On My Conscience is an independent cloudbound body produced by Schwa Kyle and is not affiliated with Wikimedia Foundation. Yeah.

title and tagline from Author Unknown by Jack Off Jill, whose fuck-you beds decay.
---
Compiled with sticks and stones for #fuckadobe jam

This (edit: a cultish-looking wikipedian holding the wikimedia logo as if to ask "have you heard the good news?") was the first thing i saw when i got my image, but i didn't feel good about using the logos in the cover itself, so this version didn't make it in: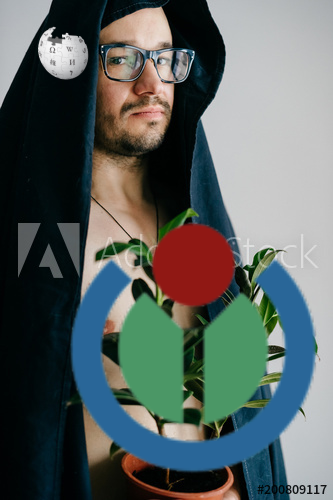 Anyway, i hope the project goes so way to show some person here that wikipedia has become more than a user/university-student-generated encyclopedia resource in the lest 5 years. I also hope my use of the cover image captures the diversity gap that wikipedia suffers from – currently, 89% of editors identify as White. This month, to address gaps in Asian representation on Wikipedia, Robyn Arville of wikipidia and the Asian American Journalists Association is hosting a training course and edit blitz at https://medium.com/@robynarville/wikiasianheritage-celebrating-standing-in-solidarity-with-people-of-asian-descent-worldwide-75a5bd42dacf
From the above link:
In May, the Wikimedia Foundation and the Asian American Journalists Association (AAJA) will co-host a virtual discussion about how to improve accurate coverage of Asian-American communities across the information landscape. More details are to come about the event. If you would like to attend, please complete this form, or monitor this blog post for updates.

Working with the AAJA and Wiki Education, we will also kick off a training in June for journalists to learn how to contribute to Wikipedia, adding and improving the representation of AAPI communities on the site.

Wikipedia volunteers will host an edit-a-thon with the Smithsonian Asian Pacific American Center to close gaps on Wikipedia about Asian American literature and art.
As part of a commitment to diversity, equity, and inclusion, the Wikimedia Foundation will be hosting several events and activities for staff to participate in, share space, and remain in solidarity with one another.

We are calling on people in journalism, academia, research, and other fields to bring more visibility to the stories of AAPI people, reinforcing that secondary sources are required to fill gaps in our knowledge projects.

…

Attend our event later this month. More details are to come about the event. If you would like to attend, please complete this form, or monitor this blog post for updates.
Purchase
In order to download this cloudbound body you must purchase it at or above the minimum price of $177.88 USD. You will get access to the following files:
scintillation
Support this cloudbound body at or above a special price point to receive something exclusive.
Adobe-Excluding Club
If you currently develop for or in any way are profiting under the brand or noteriety of adobe, YOU ARE LEGALLY BARRED FROM CLAIMING ACCESS TO THE GAME BY USE OF THE BOX BELOW. YOU MUST BUY IT ONCE A YEAR EVERY YEAR OR PIRATE IT FROM SOMEONE ELSE.
Everybody else, hi. You're cool.