please add to the bottom of your copy the words "By receiving this postcard, you agree to the terms of its EULA ("You, hereafter referred to also as 'the recipient', agree to hold in your possession this postcard for as long as you find yourself capable without bringing either yourself or others into bodily harm or financial crisis. You agree to read it as many or as little times as you like and put it on any tray, metal, plastic or otherwise, or board, be it cork, white, skate or another material, or under any magnet or another fastener or in any shoebox or a container such as a book or an underbed tote with the express intent to carry, verify, keep account of or otherwise maintain connection with this postcard. You agree to not use a copy of or lessen in any way the number of senses with which the neural patterns in your brain are able to access this postcard, knowingly or otherwise, come the time specified in its instructions. You agree to only make copies be they electronic, shared over a connection, projected in a public place or printed either by you or by a multiconglomerant or independent print studio, in so far as such actions further increase your capacity to remain within the terms of this agreement and do not bring you to such actions that would harm, hamper or otherwise distress you or your loved one or the social causes you support currently or in the future, be they monthly contributions to non-profits such as local radio stations, or to regular micropayments for a creator's subscription service for example their flattr page, their patreon account, or some other service or to become available in the future, such as a national payment service in the form of a postal service branch, internal revenue service extended body, or otherwise. You agree to take some time that is to be arranged, moderated or otherwise fully facilitated and managed by you or by someone or some service or personal assistance provider you have hired or otherwise conscripted to handle arrangements for time spent holding this postcard during the times the postcard specifies. You agree, at such time to read both the instructions of and any inscriptions on this postcard and to react, follow, or otherwise respond to the experience in whatever capacity you may both safely and comfortably afford while staying within the terms of this agreement. This Agreement may not deploy or provide patches, updates, and modifications to the Postcard that interfere with you continue to use gain enjoyment of or benefit in any other way from having received the Postcard. This Agreement may not update the Postcard remotely without notifying you, and you will never be asked to grant this Agreement consent to deploy and apply such patches, updates, or modifications. Your use of the Postcard shall be subject to the terms of Itch's Privacy Policy available at https://itch.io/docs/legal/privacy-policy . While the Postcard may ask you to "describe", "thank" or "reflect" Experience Recalled Memories within or in connection with gameplay, you do not in fact need to reflect, thank or describe or have any interest in the Experience Recalled Memories. This Agreement is the complete agreement concerning this license between the recipient and all other parties and prior agreements and representations between them. If any provision of this Agreement is held to be unenforceable, such provision shall be reformed only to the extent necessary to make it enforceable and the remaining provisions of this Agreement shall not be affected. For technical support, please go to https://help.itch.io/ ")". I have attached an example of a correctly added agreement below for formatting, placement, and affixation guidance purposes and your records. Thank you.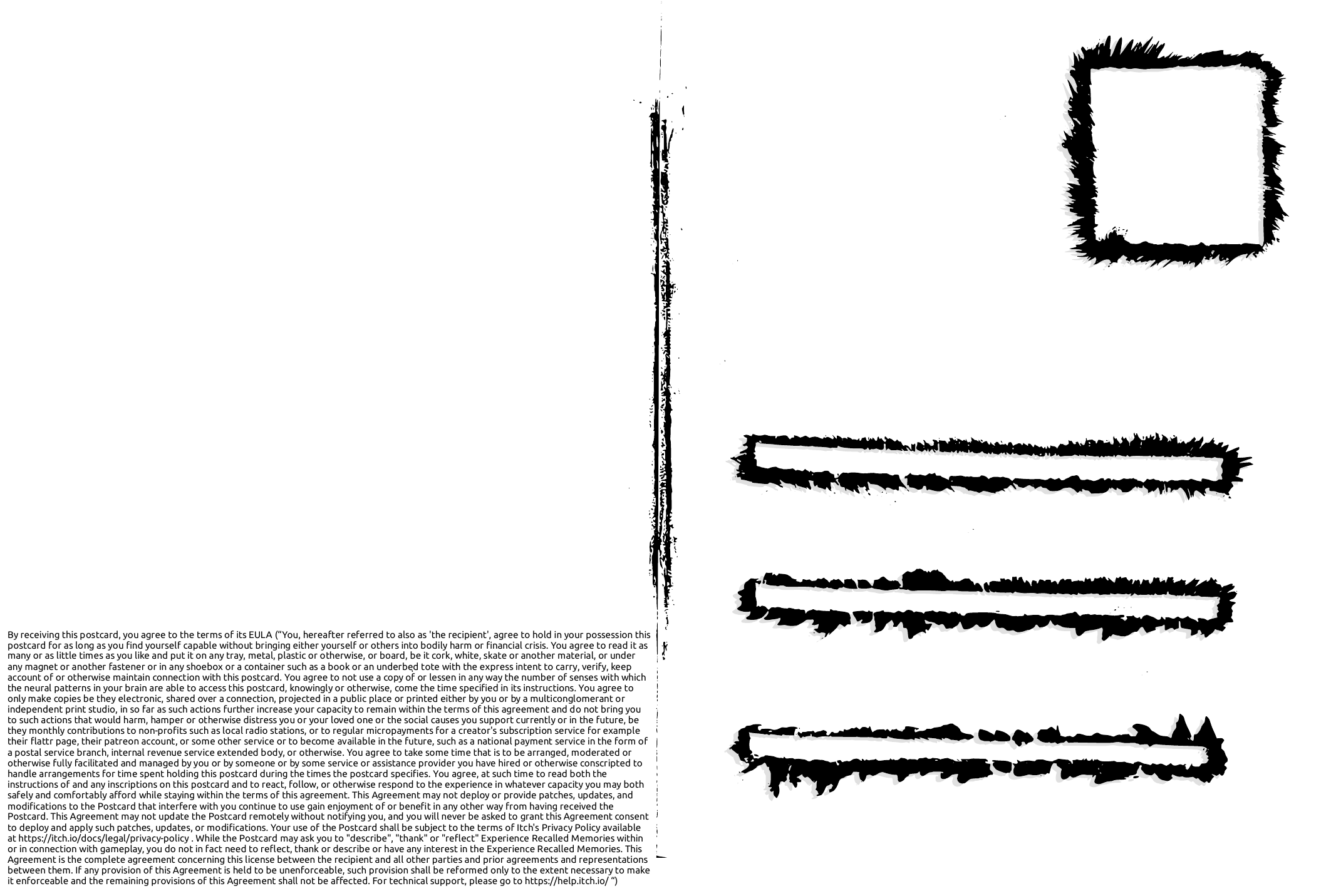 it's the way the game separates all the people that I'm leaving this project thinking of. It's the the different times the game will be picked up that I'm glad the game was able to capture. It's the way everyone's messages are all together and when the message is speaking to you specifically is when you feel the message reach you and when the message is not speaking to you specifically you still feel an atmospheric connection to the message and it helps when you come across the message that's meant for you, gives you a connection to work with. Thank you.
The interaction is forest-inspired, the way flowers bloom for everyone and seeds stick to everyone, but flowers specifically for pollinators and specifically for specific pollenators and seeds for travellers and specifically for specific travellers and both at specific times and their own in that way and for anyone else also, but mainly or critically anyway for those who've been there before for them and may yet be there again or else at least someone like them enough for things to be enough like what it was to carry into a space and be a later thing.
I'm glad this project happened. I hope I can carry the experience with me into new projects. But I know it's easier to produce this sort of effect on tiny events like this, so I can hope and I can continue working and improving on the delivery of how things happen around other things.
Here's my playthrough: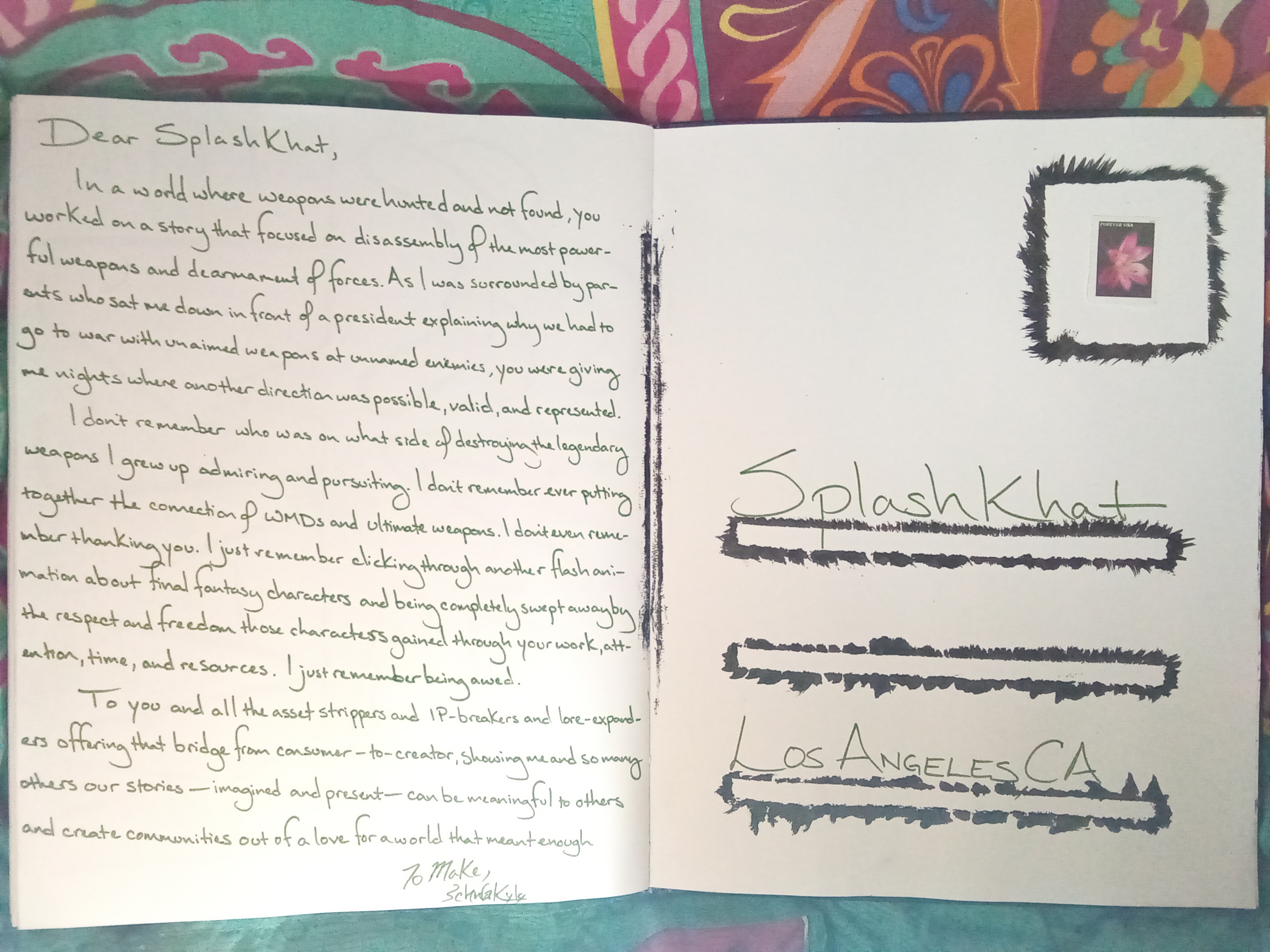 in 20 years, I hope the dev of that game finds this and can experience the last part (the first part).
---
also, if you are Emily Weiss, Esq. or are otherwise: 1. available for consultation and editing services of the agreement and 2. publicly in support of social services and state and legal aid of people who identify as lgbtqia, i would like to hire your services in proofreading and making overall improvements to whatever that silly mess up there is.
Get It's 2042 & You're Still Alive